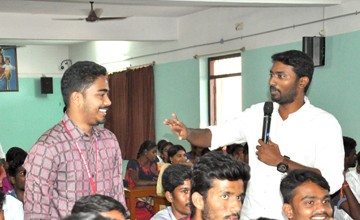 Placement Cell is an integral part of Don Bosco College. It functions to ensure the best placements for the students graduating from Don Bosco College. In Don Bosco College recruiters on account of its excellent performance sustained over a long period of time and its strong brand image. To remain competitive in today's world, being adapt in one area will not suffice. One has to be familiar with other domains too.
Spearheaded by able professionals with guidance from the Principal and Faculty members, Placement Cell works round the year and closely coordinates with recruiting teams from leading corporate houses to make sure that every student get suitable openings once they finish their courses.
Placement Cell has a perfect understanding of how the corporate world works and this helps in organizing events and programs that provide avenues to the students to get exposed to the real world of work. At present there is a great demand for knowledgeable, talented and devoted people in the exposition.
Placement Cell provides assistance to students and ability to think out of the box as it conducts Webinars, Seminars, Workshops, Personality Development Program, Guest Lecturers etc. are regular affairs and the students get ample opportunities to closely interact with professionals from different industries.
Placement Cell also arranges In-house Training, Projects and Internships with corporate organizations so that the students may get a comprehensive industry orientation helpful in polishing their skills before they start their actual careers.